Members of our congregation are involved in social justice projects promoting peace, environmental stewardship, fairness, and the inherent worth and dignity of every being.
We are a "Welcoming Congregation."  We welcome and accept bisexual, gay, lesbian, and transgender people and are committed to work for their rights and dignity in all areas of their lives.  The rainbow flag hangs proudly outside our door.  We are also involved in racial justice activities in our community.
Every Fourth Sunday we donate our loose plate collection to an organization outside of the church which works "Beyond Our Walls" to bring about positive changes.  Recipients of the "Beyond Our Walls" collection have included Partners in Health, Camp Susan Curtis, Christmas for Teens, Community Lunch, Western Maine Land Trust, Planned Parenthood, Maine Wabanaki REACH program, Safe Voices, CEBE; Center for Ecology-based Economy, Middle Eastern Children's Alliance, Blue Skies Legal Defense Fund, GGHC; Gardeners Growing Healthy Communities– the list is extensive.  Our Social Justice Committee is the largest of all the church committees.
From the Social Justice Committee:
Social Justice Committee supports solidarity with an agenda of focus on justice, human rights and compassion.
Many church members and friends attended the People's Climate March in Maine on Saturday April 29th behind the State House in Augusta, Maine.   People joined together to promote a sustainable future for Maine and marched together to protect the beauty and economic benefits of Maine for everyone!
The People's Climate March focused on and promoted:
A Healthy future for all Mainers that protects a climate which:
Produces enough food.
Provides jobs that preserve the environment.
Supports a new economic model for growth that does not rely on environmental exploitation
Bolsters local agriculture, local businesses, and local banks.
Protection for all who live here including refugees, people of color, LGBTQIA+ (Lesbian, Gay, Bisexual, Trans, Queer, Intersex, Asexual and other non-straight and/or cis folks),indigenous peoples, differently-abled people, and people of all religions.
All people will be affected by climate change, but marginalized communities more so than others. We understand that the issue of climate justice is an issue of social, racial, economic, and environmental justice because they're all fighting the same systems of oppression.
March 11th, 2017, church members along with devoted members of WMTA, "Western Maine Take Action" featured the ACLU training film "RESIST" here at the church.  The turnout was solid.
January 21, 2017, eight members our church attended the Women's March on Washington while others marched closer to home in Portland and Augusta.
"We wanted to show that people want to band together and stand up for all the groups that have been marginalized by the current presidential administration."  Those groups include women, immigrants, the disabled, the LGBTQ community, indigenous people/Tribal Native Nations and climate change advocates, among others. It is not limited to women."
January 14th, 2017 members of the Social Justice Committee met in Kennedy Park in Lewiston to participate in the National Day of Action to Protect Immigrants, Muslims, and Refugees, sponsored by United We Dream, and a coalition of organized labor and immigration reform groups, to "declare in no uncertain terms that we stand for community, love for one another, shared strength and human dignity, and we will link arms and stand as a line of defense."
In December 2016, 80 pairs of pajamas were delivered to Christmas for Teens.  These donations offered help to teenagers who lacked pajamas.
Peace Vigil: Bearing Witness to All Lives Lost to Violence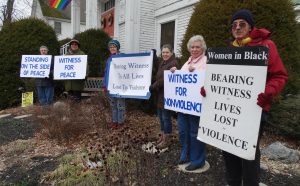 Our Peace Vigil is an ongoing event every Thursday afternoon from 4:00-5:00 pm in front of the church – all are welcome to join us for the entire hour or part of the hour. Some Peace Vigil participants also attend the SURJ  (Standing Up for Racial Justice) Vigils being held on the bridge in Auburn on the 4th Monday of each month.
The church worked tirelessly to oppose the DAPL through correspondence, email, change.org, vigils, and word of mouth.  Although unsuccessful, the numbers of people who stood and spoke in opposition of DAPL demonstrated that standing up together for issues of importance is as crucial to promoting change as securing change.