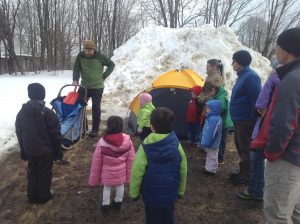 We are redesigning our Religious Education (RE) program.  As always, when plans are complete, all children will be welcome.  Our new program will be led by a variety of parents, teachers and congregational members who will contribute to interactive classes, following Unitarian Universalist curricula.
Currently, during Sunday worship services, children and youth are always welcome upstairs, but there will continue to be an open playroom downstairs during the service with childcare providers. If younger children and infants stay with their parents, there is a carpeted area in the rear of the sanctuary with a rocking chair and books and puzzles for entertainment.
Popcorn Theology
Our "Popcorn Theology" program, for young people ages 11 to 15, will resume in January 2018.  "Popcorn Theology" is a UU Religious Education curriculum and will meet on the third Friday of every month.  Leaders are Reverend Bernice Martin and church member Ann Johnson, assisted by church member Jolene Twombly-Wiser and Reverend Fayre Stephenson.  Watch for details!