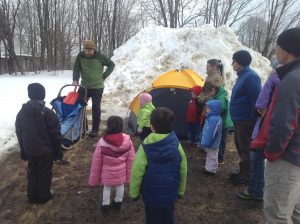 Our Religious Education (RE) Program welcomes all children and is designed for children ages 3 to 15.  RE follows our worship schedule of September to June, 11:00 am, the same time worship services are held in the Sanctuary.
RE and childcare works on an open classroom format, with activities that capture the interest of all ages.
Popcorn Theology
Remember to join us for "Popcorn Theology", a UU Religious Education curriculum on the third Friday of every month organized by volunteer Jolene Twombly-Wiser, Reverend Fayre Stephenson, Reverend Bernice Martin, and volunteer Ann Johnson. This youth program is being further developed for the 2017-2018 church year and Popcorn Theology will begin shortly.  Watch the website for details!
Church Service
During Sunday worship services, children and youth are always welcome upstairs, but there will continue to be an open playroom downstairs during the service with childcare providers. If younger children and infants stay with their parents, there is a carpeted area in the rear of the sanctuary with a rocking chair and books and puzzles for entertainment.
We have a variety of parents, teachers and congregational members who contribute to interactive classes.  The volunteer RE teachers choose Unitarian Universalist curricula for the coming year, with input from the Minister.
Our RE Youth Development Program includes classes that support and expand the seven principles of Unitarian Universalism. Children are encouraged to express and explore their own thoughts and feelings, as well as ask questions.  Program topics include:
• Building Character with True Stories from Nature
• Growing Times
• Chalice Children
• A Stepping Stone Year
• Celebrations Around the World
• We Are Many, We Are One
Popcorn Theology